MEET "CHAMPíS MARIAH" Female English Bulldog. Color is red with white markings. (pictured below at 3 years old)
"Click here to see photo album!"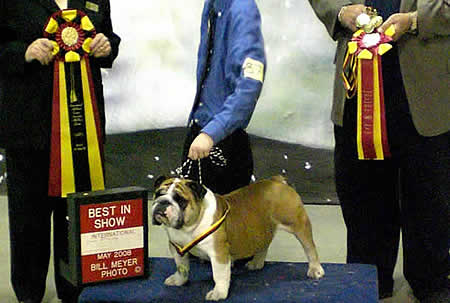 MARIAH IS FROM NICE CHAMPION ENGLISH BULLDOG SHOW LINES. She has great Bulldogs such as Marinebull's All The Way behind her.
SHE HAS A SUPPER BUBBLY INTELLIGENT PERSONALITY AND LOVES EVERYONE SHE MEETS!
MARIAH IS ALSO EXTREMELY HEALTHY WITH MANY OFA HEALTH CERTIFICATIONS.
MARIAHíS CONFORMATION IS VERY CORRECT. SHE HAS PERFECT ROSE EARS. AN AMAZING SPIKE TAIL (THAT COULD NEVER GET INFECTED). SHE HAS A BEAUTIFUL EXPRESSIVE BRICK SHAPED HEAD WITH PERFECT FLAT LAYBACK.
Mariah says: "Come see my photo album!"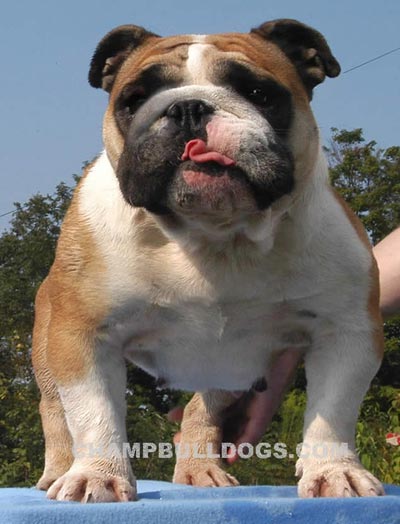 Please e-mail us for more information.
E-mail: champbulldogs@gmail.com
or call: (301) 643-2961
CHAMPULLDOGS ENGLISH Bulldogs we can arrange flights for your new Mini Bulldog puppy to new homes in: Alabama, AL; Alaska, AK; Arizona, AZ; Arkansas, AR; California , CA; Colorado, CO; Connecticut, CT; Delaware, DE; Florida, FL; Georgia, GA; Hawaii, HI; Idaho, ID; Illinois, IL; Indiana, IN; Iowa, IA; Kansas, KS; Kentucky, KY; Louisiana, LA; Maine, ME; Maryland, MD; Massachusetts, MA; Michigan, MI; Minnesota, MN; Mississippi, MS; Missouri, MO; Montana, MT; Nebraska, NE; Nevada, NV; New Hampshire, NH; New Jersey, NJ; New Mexico, NM; New York, NY; North Carolina, NC; North Dakota, ND; Ohio, OH; Oklahoma, OK; Oregon, OR; Pennsylvania, PA; Rhode Island, RI; South Carolina, SC; South Dakota, SD; Tennessee, TN; Texas, TX; Utah, UT; Vermont, VT; Virginia , VA; Washington, WA; West Virginia, WV; Wisconsin, WI; Wyoming, WY, Canada and we can ship Mini Bulldog puppies to approved homes that are out of country depending on quarantine laws & other conditions...

All pictures & content found on this website Copyright 2005-2010 Champs Bulldogs

About Us | About Bulldogs | Available Puppies | Approved Home/Pricing | Bulldog History | Scam Alert | Breed Standard | Bulldog Care
Past Puppies | Bulldog Pictures | Showing Your Bulldog | Vet & Health Info | Health Certifications | Stud Service | Life Stages Puppy Photos | Links