certification testing on our adult English Bulldogs and we avoid inbreeding or close linebreeding to insure the best health possible!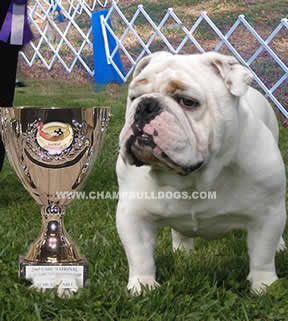 Type is very important to us! We only breed very short, thick, stocky, heavily wrinkled English Bulldogs! We work for big,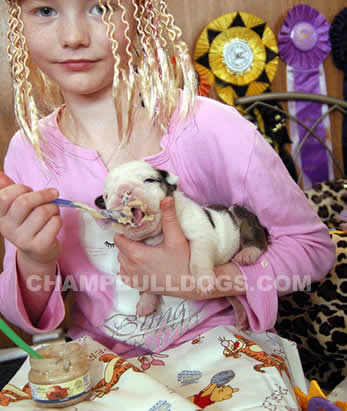 beautiful heads and wonderful temperaments. We do not like tall Bulldogs! We do temperament and health screening on each English Bulldog puppy before it goes home. Our English Bulldog puppies are hand raised & socialized with children.
For new homes: Our English Bulldog puppies are very loved and we work very very hard for our bully babies... If you are interested in a Champ Bulldog puppy you will need to fill out our puppy application & references will be required. Each English Bulldog puppy is extremely special to us and we prefer that our bulldog puppies go to very loving pet homes on spay & neuter contracts. Most of our English Bulldog puppies are show potential quality! The only difference between a show quality English Bulldog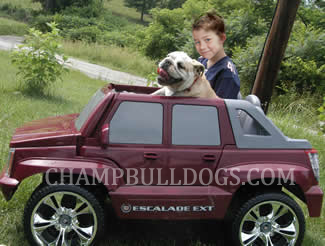 and a pet quality English Bulldog is that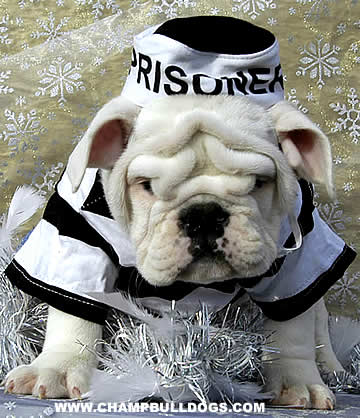 a show quality Bulldog comes closer to meeting the standards set out for the English Bulldog breed. So a show quality Bulldog is just basically closer to being what every Bulldog should be; looks, temperament etc... We strive for perfection and that is why most of our Bulldog puppies are show potential quality. We want them to represent the Breed well and for the new owners to be very happy and satisfied with their Bulldog.
Please contact Champ Bulldogs for Bulldog puppy availability or with English Bulldog questions.
The deposit to reserve one of our English Bulldog pups is $500. If we do not have English Bulldog puppies available at this time we do take deposits for our waiting list for approved homes.
** To Contact Champ Bulldogs, please email us at: champbulldogs@gmail.com or call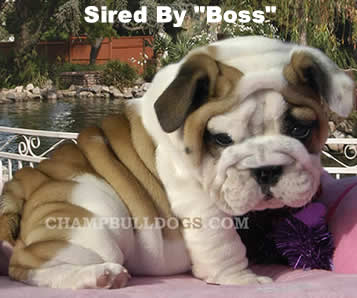 Champ Bulldogs at: 740-447-3442.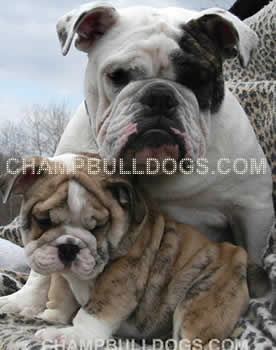 When contacting us please keep in mind that if you are a true Bulldog lover with the Best interest of the Bulldog breed in mind and NOT a scammer or a puppy mill we would love to talk with you, whether you have questions about Champ Bulldog puppy availability for adopting a new family member or questions about the English Bulldog breed in general. We apologize in advance for any possible delay in response. Please remember our Bulldogs are our beloved family members who we would love to spend all day chatting about. But I do still have a job, home & family responsibilities, human and Bulldog children. (and If any of you have an English Bulldog kid you know first hand how much time, love & attention they require!) Added to that we may at times get a high number of inquiries at one time. So if we are not able to respond back to you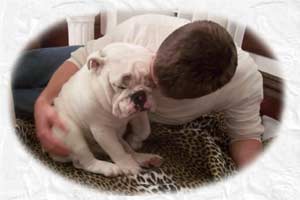 right away please understand that we truly want to know you, help you & answer your Bulldog questions, but there is only so much time in a day. If you are seriously interested & have not been able to contact me yet, please continue to try & reach us. Don't worry we won't get annoyed. It will just show us your sincerity. It may be easier to reach me initially by email because I talk too much & often spend the better part of the day on the phone with the first person I call back, so I run out of time to return all the calls. But I will do my best to return all phone calls & emails in time. We look forward to meeting you & helping you to have a wonderful experience as the owner of an English Bulldog.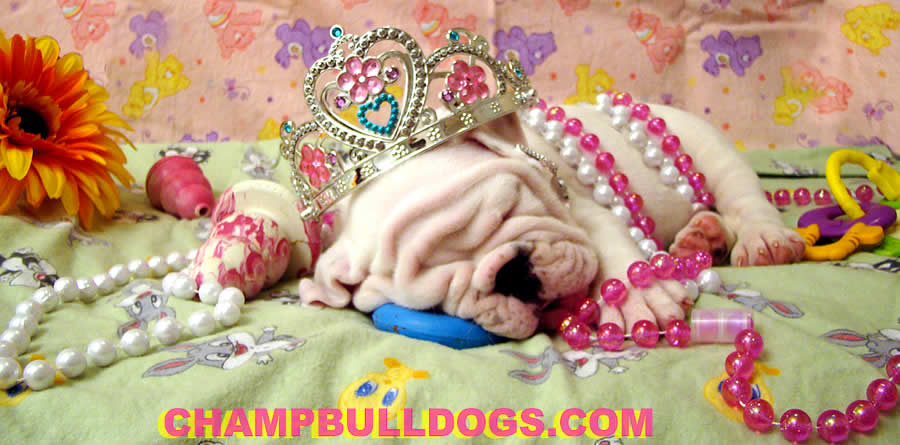 Please e-mail us for more information.
E-mail: champbulldogs@gmail.com
or 740-447-3442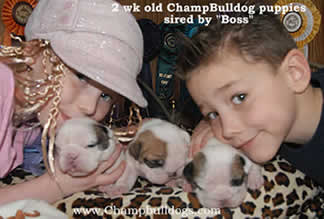 CHAMPULLDOGS ENGLISH Bulldogs Puppies can go to new homes in these states: Alabama, AL; Alaska, AK; Arizona, AZ; Arkansas, AR; California , CA; Colorado, CO; Connecticut, CT; Delaware, DE; Florida, FL; Georgia, GA; Hawaii, HI; Idaho, ID; Illinois, IL; Indiana, IN; Iowa, IA; Kansas, KS; Kentucky, KY; Louisiana, LA; Maine, ME; Maryland, MD; Massachusetts, MA; Michigan, MI; Minnesota, MN; Mississippi, MS; Missouri, MO; Montana, MT; Nebraska, NE; Nevada, NV; New Hampshire, NH; New Jersey, NJ; New Mexico, NM; New York, NY; North Carolina, NC; North Dakota, ND; Ohio, OH; Oklahoma, OK; Oregon, OR; Pennsylvania, PA; Rhode Island, RI; South Carolina, SC; South Dakota, SD; Tennessee, TN; Texas, TX; Utah, UT; Vermont, VT; Virginia , VA; Washington, WA; West Virginia, WV; Wisconsin, WI; Wyoming, WY, as well as most countries when accompanied by it's new owner or an agent of the new owner's choice. .