SUPPLEMENTS FOR HEALTHY ENGLISH BULLDOGS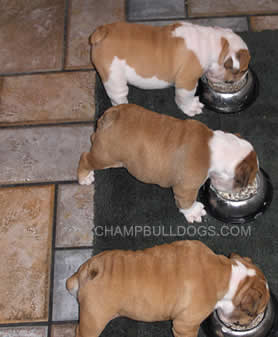 Making sure your Bulldog is supplemented properly is very important as it will help his or her hips & immune system in developing stronger as an adult English Bulldog. It will help insure the healthiest immune system, hips & skin possible throughout your bulldogs life. Which will help your English Bulldog to live longer & cut down on vet bills. Proper supplements can also greatly reduce the chances of your Bulldog getting cancer because they can build up your bulldog's immune system & aid in detoxification. FYI: many recent studies show that cancer is the leading cause for death in canines. (please scroll down)
* EGGS *
We recommend adding an egg to your English Bulldog's meals several times a week. Eggs are a GREAT source of nutrition for a Bulldog as they are high in Omega 3 fatty acids and they contain needed vitamins in a natural form . About 100% of the nutrition in every egg is used by your Bulldog's body unlike processed supplements & dog foods.
* Ester C Vitamin *
Ester-C is good for immune system support & immune system building and great for good joint development (see http://www.workingdogs.com/doc0039.htm ). Since hip dysplasia is one of the largest health issues faced by the Bulldog breed (OFA ranks Bulldogs #1 for hip dysplasia) it's best to begin taking preventative measures as early on as possible in your puppys life. English Bulldog puppy's hips & joints start growing at conception and continue to develop until your Bulldog reaches 18 months of age. (For this reason we put all of our pregnant & nursing English Bulldog mother's on 1000mg of Ester C each day.) We recommend that every Bulldog puppy be on 500mg - 1000mg of Ester Vit C every day. For adult Bulldogs we also recommend 1000mg of Ester Vit C daily. Most local pharmacies carry Ester C.
* Glucosamine & Chondroitin *
Also for Bulldog hips. Since hip dysplasia is one of the largest health issues faced by the English Bulldog breed this is a great preventative measure. If you wait & your Bulldog does become arthritic your vet will most likely prescribe a Glucosamine & Chondroitin based product for your Bulldog. FYI: Glucosamine & Chondroitin products should always be given to your Bulldog with food as it can upset the belly if giving on a empty stomach.
Missing Link is a great supplement. Full of broad spectrum of natural fiber, flax lignans. These nutrients synergistically provide support to the digestive, nervous, and immune systems. The result is sustained energy, omega 3 fatty acids for healthy skin and coat.
* Yogurt *
Yogurt contributes to the digestive system, bone growth and works to strengthen a Bulldogs immune system. FYI: As with humans, on occasion a Bulldog could be lactose intolerant so if you notice your Bulldog getting the runs or sounding congested after eating yogurt discontinue feeding it.
* TREATS *
For treats we give our Bulldogs eggs, small pieces of cheese, pieces of Salmon and Oasis treats natural based treats: http://www.completenaturalnutrition.com
Also see : http://www.champbulldogs.com/foods.htm
http://www.champbulldogs.com/care.htm