Deposits: We can accept a deposit with a CREDIT CARD. Our deposit is 20% of the purchase price for next pick puppy in the order received. Your deposit is never lost but is non-refundable. If you put a deposit down and you decide that it isn't the Bulldog puppy for you, or your life circumstances have changed so that the timing is not good for you we will transfer the full amount of your deposit to another English Bulldog puppy of your choice (of similar quality) from a future litter when available.
Getting approved: We love and work very, very hard for our English Bulldog puppies. Each Bulldog puppy is extremely special to us! We know that the home our puppy goes to determines what the rest of it's life will be like. We take this as a serious responsibility. That's one reason why we only place our Bully babies with approved, loving, forever homes!
English Bulldogs have very funny, loving, sweet, expressive personalities that almost anybody would fall madly in love with. But just as different people have different personalities, English Bulldogs do also. People have different family situations and varying ideas of what the perfect Bulldog for them is. We consider all of this and then consider the temperament, health and personality of each individual Bulldog puppy in an effort to help the family pick the Bulldog puppy that is best suited to their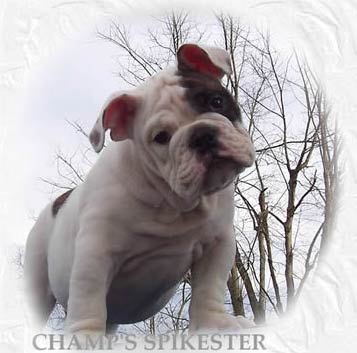 preferences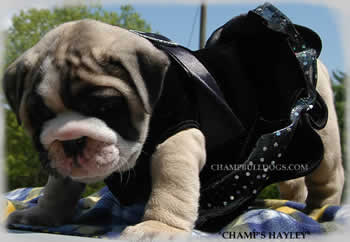 and lifestyle. In this way we can feel comfortable that each puppy is not only cared for wonderfully but is loved and cherished as an individual and as part of the family.
Please email a request for a "Champ Bulldog's Puppy Reservation Application" if you are seriously interested in owning a Champ Bulldog.
We will also need at least one reference listed on your application. Your reference(s) could be a friend or (preferably) an employer or a vet who could tell us what kind of home you would be for one of our Bulldog babies. You can add your reference in your application, or call or email us the names & contact info of your references. You could also have them call or email us. If, after we review your application and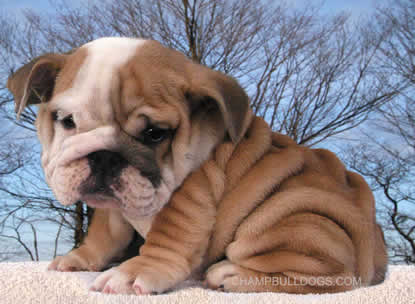 check your references, we approve it,we will give you a call or email letting you know that you have been approved. At that point you can put down your deposit to reserve your spot on our waiting list or for a certain Bulldog puppy that IS currently available. After the approval process our English Bulldog puppies are reserved in the order the deposits are received. If you would like to put down a deposit for a Bulldog puppy from a future litter we will try to take into account color and sex preferences. Normally our deposits are taken with PayPal. We like to use PayPal because they are fast, fairly simple and secure because they keep receipts of all transactions and email copies to both parties. After you have been approved, you can make your deposit by clicking on the PayPal link below or above. Or we can send you an email with instructions.
Our deposits are non-refundable if you simply change your mind. We are as fair as possible so if you put a deposit down and you decide that it isn't the Bulldog puppy for you or you want an English Bulldog puppy from another litter we will transfer the full amount of your deposit to any other English Bulldog puppy (of similar quality) available at any time...
Important check list: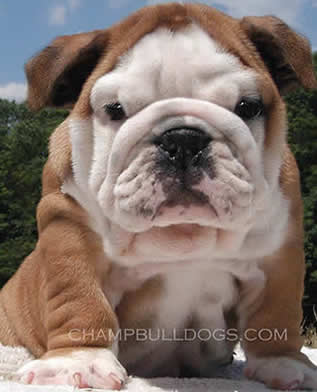 x We do NOT place our Bulldog puppies in homes where they will just be breeding things!
x We do NOT let our English Bulldog puppies go to homes where they would live outside!
x We will NOT place our English Bulldog puppies with anyone who has any history of child or animal abuse!
x ALL of our new Bulldog puppy owners must take time to educate themselves on how to properly care for their unique new English Bulldog puppy.
x FYI: We will probably turn down homes that have a large number of other dogs. As our English Bulldogs crave individual love & attention.
English Bulldog puppy pricing:
Granted, a Bulldog puppy is generally not the most inexpensive of the dog breeds. There are logical reasons for this. The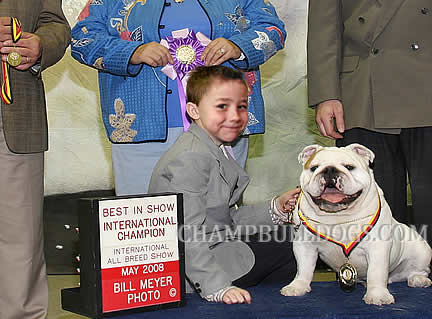 most important is this: it takes a tremendous amount of time, love, care, work and money to produce good, healthy, quality English Bulldog puppies. This is one reason why there is such a huge variation in the appearance and health of different English Bulldogs. Many breeders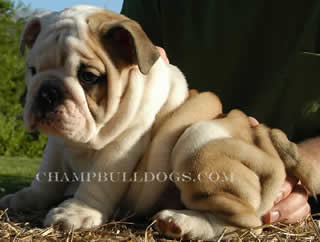 are not willing or able to go to the lengths required to produce high quality, healthy English Bulldog Puppies. Sadly, there are many poorly bred Bulldogs that are not good representations of the breed. There are many breeders who take advantage of the English Bulldogs price bracket and churn out lots of poorly bred, unhealthy Bulldog puppies. So beware and do your homework.
When choosing an English Bulldog Puppy to be part of your family, now is not the time to look for the best bargain, but to look for the best bred & raised puppy. The Bulldog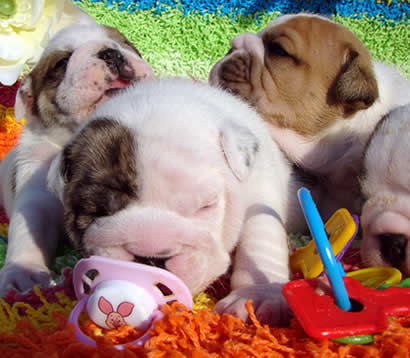 puppy you choose will be a member of your family for the next 10-12 years or more. It is very important to pick the right puppy. The English Bulldog puppy you pick will have a big effect on you & your families emotions, happiness and sense of fulfillment with your new Bulldog/family member. A good English Bulldog should make you happier and make you smile more than almost anything else. Picking an English Bulldog puppy that is well bred and raised correctly is very important and can save miles in the long run as far as vet expenses and heartache. When an English Bulldog puppy is raised and nurtured correctly it will have a much more loving temperament and bond better with your family. The bulldog puppy you pick is an emotional investment for you and your family. If you feel that your circumstances only permit a 'lower priced' Bulldog puppy, we suggest you wait until you are in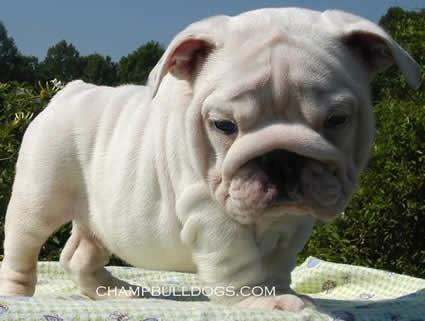 a position to be a little less concerned about cost and ready to focus more on quality and health. You won't regret it in the end!
* Each of our English Bulldog puppies are priced individually depending on their conformance to the Bulldog Breed Standard. We also do our own evaluation of each bulldog puppy's overall health and temperament and consider these factors when pricing. We have A LOT of time, love and money invested in each one of our pups. Our English Bulldog puppies are outstandingly bred and out of International Champion Bulldog bloodlines. The deposit to reserve an English Bulldog Puppy or to reserve a placement on our waiting list is 20% of the purchase price. Our pups are priced at $3,500 up to $15,000 normally but can variate higher or lower.
PAYMENT INFO:
* We do NOT take personal checks, cashiers checks or money orders unless they are given ample time to 'clear' before the puppy goes home.
* We accept cash
* We accept bank wire transfers. A bank wire is the most secure way to send money because it goes through the Federal Reserve.
* Important Credit Card Info: We accept credit card payments through Square for deposits only, not the full amount. FYI If you are approved to adopt one of our puppies & you wish to use a credit card for the full balance you can contact your credit card company about getting a cash advance. Our dogs are our passion and hobby, so we are not a 'business' as such and do not have any way to process credit cards ourselves.
Our STANDARD HEALTH GUARANTEE can be seen here.
** Airline Flights for puppies **
Champ Bulldog puppies can go to new approved homes worldwide by plane or land, accompanied by the new owner or the new owner's agent of choice. Some states or countries may have different requirements such as rabies or quarantine.