SHOWING YOUR FRENCH OR ENGLISH BULLDOG
* If you are seriously interested in showing your French or English Bulldog the first thing you need to do is understand your English Bulldog's conformation and the British Bulldog breed standard so that you will know howgood he/she is and what faults or strong points your dog has. After you have determined your Bulldogs strengths and weaknesses you should start show training as young as possibly! (Basic socialization plus training to gate & stack) Start first by walking your English Bulldog on your left side consistently as Bulldogs are always shown on the left so as to always be facing the judge. English Bulldogs should be gated at a slight "trot", not run or a walk when in the ring. Stack your English Bulldog as often as possible as this is normal

ly much harder for you and your Bulldog to master. Your Bulldog needs to stand square. The chest is wider than the hips area, so the front legs will always be set wider than the rear legs.
* Shows are held all over the World. Local shows in America will be held by AKC. AKC is considered reputable, most all other registrations in America are not reputable enough to spend your money on. International showing is very rewarding because you have the potential to achieve the most prestigious titles such as "World Champion" & "International Champion". International showing is much more challenging because of International travel, language barriers & steeper competition with top ranking dogs around the world.
* AKC SHOWS: Go to Onofrio dog shows. Contact them by phone or email to request an entry form.

*INTERNATIONAL SHOWS: If you want to show your dog on an International level the first thing you will need to do is register your dog with FCI . F.C.M(Mexico) & FCPR(Puerto Rico) are the closest FCI partners to America FEDERATION_CYNOLOGIQUE INTERNATIONAL (The World Canine Organization)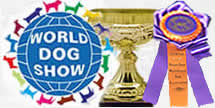 . To register your dog with the FCI you will need to send them a certified original copy of your Bulldog's AKC issued pedigree & copy of his or her AKC registration slip along with a check for the transfer fee. (FYI: "AKC" & "FCI" both accept each others registrations). AKC is the only registration FCI accepts from the USA. Once your Bulldog is registered with the FCI you can show your English Bulldog in International & World dog shows all around the world. FYI If you live in the USA,the closest shows will probably be in "Mexico" & "Puerto Rico".
Here is a list of upcoming International shows: World Dog Show 2016 Russia
CRUFTS 2016 (the "CRUFTS" in England is said to be the largest and most prestigious world-renowned dog show, refered to as the "greatest dog show in the world")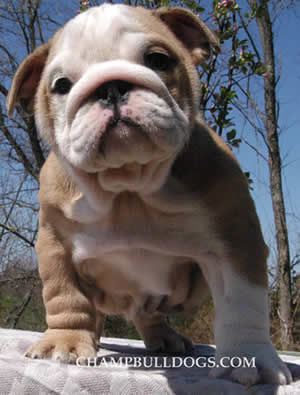 CRUFTS 2016 - (UK LARGEST SHOW IN WORLD OTHER THAN WORLD SHOW)
http://www.crufts.org.uk/content/ticket-office/
http://www.crufts.org.uk/content/show-information/accommodation/
http://www.crufts.org.uk/content/dog-exhibitors/qualification-for-crufts-2016/
2015 - French Bulldogs on CRUFTS Video:
https://www.youtube.com/watch?v=qY3dNvZew4I
https://www.youtube.com/watch?v=9h4pDxs3dps
2015 - English Bulldogs on CRUFTS Video:
https://www.youtube.com/watch?v=9tjzvVb_BKI
* A few points to remember: In American AKC shows puppies can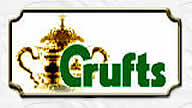 not be shown for Championship points until 6 months of age. Spayed females & dogs that do not have two apparently normal testicles also cannot be shown for Championship points. At International shows puppies under 15 months of age can only win "Junior" titles, for example: "Junior World Champion", "Junior National Champion" or "Junior International Champion". Dogs can not compete for adult titles on an International level until after 15 months of age.

* Studying & learning is the best thing I can tell you. Understanding how the show works & what you must do with your English Bulldog to make the show work for you makes all the difference in the world. When you first start showing it may be confusing and take a long time to understand the whole process. It will probably be best for you to get a couple of good Books on handling and on the whole the showing process, study them good and then go out and try it for yourself.

* It is best to use an appropriate show style dog lead in the ring. There are many varieties of show chokers and leads in leather, nylon, chroma etc. Try to pick a show lead in a color that will enhance your Bulldogs appearance. If you are unsure you can try to pick one that matches your dog as you really want the judge's eye to remain on your Bulldog not his lead.

You need to understand how classes work, most books on showing will explain the showing classes in great detail but here is a brief:
AMERICAN AKC SHOW CLASSES:

The regular AKC classes for Championship points: PUPPY 6-9 MOS, PUPPY 9-12 MOS, NOVICE, BRED-BY-EXHIBITOR, AMERICAN BRED, OPEN CLASS;

PUPPY 6-9 MOS CLASS: Bulldog puppies six months of age and over, but still under twelve months and are not champions.

PUPPY 9-12 MOS CLASS: Bulldog puppies 9 mos old or over but under 12 mos. and not yet Champions.

NOVICE CLASS: Bulldogs over six mons that have not won three 1st in the Novice Class, 1st in Bred-by-Exhibitor, American-bred or Open Class.

BRED-BY-EXHIBITOR CLASS: Bulldogs six mons of age and over, that are not champions and that are owned or co/owned by the person who is the breeder.

AMERICAN-BRED CLASS: Any Bulldog, not a champion, six months of age or over.

OPEN CLASS: Any Bulldog six months of age or over.
Remember to have fun. Always smile at the judge and never let winning feel more important than your love for your Bulldog or Bulldogs...