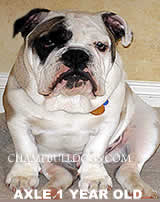 We repeatedly receive calls and e-mails from wonderful people who have purchased what they thought was going to a beautiful English Bulldog puppy. Scammers have stolen our and other breeders pictures to trick people into sending money. Later after these families were robbed of their money some of them have contacted us. Come to find out the English Bulldog puppy they tried to purchase the week prior was a Bulldog puppy I had 3 years ago! The pictures had been stolen from our past puppy page. That happened with our beloved English Bulldog Deacon, Axle and many, many others.. Please see the pictures below. This puppy is "Champ's Axle". We took these pictures of him at our home in our Dining room December of "2005". We sold him to David & Bridgette Miller of New York in Dec 2005 (updated picture on right). Axle's pictures have been stolen & used by scammers countless times. Recently a scammer using this email address: tjohnson@unionplus.net even used these stolen pictures in the DOG WORLD magazine! We emailed the scammer July of 2007 after viewing the fraudulent ad in the DOG WORLD MAGAZINE. The scammer emailed us back pictures of Axle calling him Luna & offering to send us the puppy for $700. Imagine our disgust! Please read on "below"...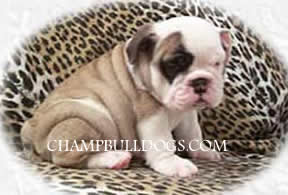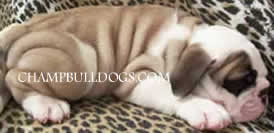 Scammers have literally stolen our identity and copied our web site (see a few scam sites listed below) in addition to stealing text and pictures as in the past. Scammers have even posted ads in local town news papers & on sites such as puppyfind, hoobly.com & others using the name Champ Bulldogs, our telephone number and address!! We were tipped off when we received 3 calls about a Maltese puppy being advertised on puppyfind.com. (Imagine my surprise, being that Bulldogs are our only breed! Added to this WE DO NOT ADVERTISE ON MOST CLASSIFIED SITES AS THEY ARE OVERRUN BY SCAMMERS!) After some investigating I found a scammer listing at least 4 different breeds under MY NAME AND ADDRESS! These scam artists are hoping to use our excellent reputation to commit these horrible crimes. These monstrous scammers try to pull this off by directing any responses to these ads to a phony email. Unfortunately, many uneducated puppy buyers are willing to go through the entire purchase process via e-mail only. Please be aware that our contact information is ONLY AS FOLLOWS: Email champbulldogs@gmail.com & bulldogs@champbulldogs.com phone number: 740-447-3442. These are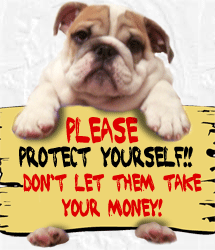 safe and secure ways to contact Champ Bulldogs. PLEASE NEVER BUY A PUPPY JUST FROM ADS YOU FIND ON THE INTERNET!! Find a real breeder with a web site & standing reputation. Many of these classified sites have knowingly made a profitable business out of catering to scammers and their techniques.
TONS of these scams are happening on: (cut & past to see)
www.englishbulls.07x.net
www.puppyfind.com
www.hoobly.com/
championbulldog.tripod.com/
(The email below is a scammer who is using stolen pictures)
WHAT TO LOOK FOR:
* MONEY! I takes A LOT of Time, Love & EXPENSE to breed good English Bulldogs! So if the price sounds to good to be true for that cute Bulldog puppy, it almost always is! That is the #1 way they get people!
* CHEAP PRICE/SHIPPING INCLUDED!
* WANTING MONEY SENT ASAP VIA WESTERN UNION OR MONEY GRAM! FYI The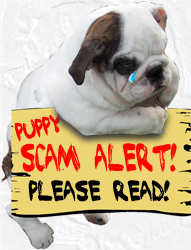 #1 reason scamers use WESTERN UNION & MONEY GRAM is because they can use phony names so that the scam won't be traced back to them. If your puppy is coming home to you on a flight ONLY pay for your puppy by a bank wire as it is the safest way to send money because you know exactly who you are sending the money to. Bank wires must go throw the Federal Reserve (Making it safe, legit & completely traceable)! If the seller refuses to accept a Bank Wire for payment it is probably a scam as bank wire transfers are the preferred method of sending money among most all reputable breeders.
* WANTING A DEPOSIT OF HALF THE MONEY ASAP WESTERN UNION OR MONEY GRAM!
* THE SELLER/SCAM ARTIST CLAIMING TO BE CHRISTIAN, LOVE GOD, THEY ARE A REVEREND or that they do missionary/minister work in west Africa.
* ANY STATEMENT ABOUT AFRICA, WEST AFRICA OR NIGERIA!
* SAYING THEY CAN'T TALK ON THE PHONE! (SOME SAY IT IS BECAUSE THEY GOT IN A BIKE OR OTHER ACCIDENT- THEY ARE NOW DEAF AND NEED A DEAF TRANSLATOR! crazy...)
* MOST OF THEM DON'T HAVE A WEB PAGE OF THEIR OWN, THEY SELL PUPPIES USING ADDS ON PUPPY CLASSIFIED WEB PAGES. OR THEY MAY HAVE A SMALL, FREE WEBSITE. A LOT OF THEM USE FREE EMAILS LIKE HOTMAIL & YAHOO.
* THEY SAY THEY WILL SHIP THE ENGLISH BULLDOG PUPPY IMMEDIATELY TO YOUR CLOSEST AIRPORT, WITH IN A FEW HRS OR DAY OR SO.
* THEY WILL BE TRICKY AND TRY TO GAIN YOUR TRUST BY GIVING YOU PHONY PHONE NUMBERS, PHONY REFERENCES ETC... ONE LADY WHO WAS SCAMMED TOLD ME THE SCAMMER EVEN SENT HER A PUPPY CARE PACKAGE!
* RECENTLY MANY OF THESE SCAMMERS HAVE BECOME MORE PROFESSIONAL AT COMMITTING THESE SCAMS. IN DOING SO, MANY THROW UP THEIR OWN WEB SITES FULL OF STOLEN PICTURES & EVEN STOLEN TEXT. WE HAVE EVEN HAD SCAMMERS ACTUALLY STEAL OUR IDENTITY AND COPY OUR ENTIRE WEBSITE!!!!! SO PLEASE BE CAREFUL. AGAIN DO NOT SEND MONEY BY MONEY GRAM OR WESTERN UNION. TALK TO THE SO CALLED BREEDER & TALK TO THEIR REFERENCES. MAKE SURE YOU DO YOUR HOMEWORK SO AS TO MAKE A SAFE, INFORMED DECISION ON WHO YOU PURCHASE YOUR PUPPY FROM!
HOW TO PROTECT YOURSELF:
BE SMART!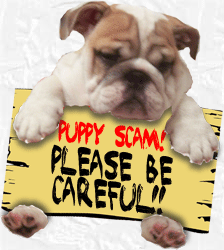 * DON'T SEND ANYONE MONEY WESTERN UNION OR MONEY GRAM THAT YOU DO NOT KNOW PERSONALLY! Please keep in mind that most of the scam artists are accepting payments via Western Union & Money Gram because they can disguise who they really are, so they can't be tracked down. Responsible breeders and companies should be able to accept a bank wire. Anyone that is valid must have a bank account that is filed. Paying for your puppy by a bank wire is the safest way to send money because you know exactly who you are sending the money to. Bank wires must go throw the Federal Reserve (Making it safe, legit & completely traceable)!
* DO NOT BUY AN BULLDOG PUPPY FROM ANYONE WHO YOU CAN'T TALK TO PERSONALLY AND BECOME FRIENDS WITH!
* DO NOT BUY AN ENGLISH BULLDOG FROM ANY ONE WHO CAN NOT GIVE YOU SEVERAL LEGITIMATE PERSONAL REFERENCES!