Help Potty Train Your English Bulldog puppy
1. Crate training is very effective in training an English bulldog puppy. A crate is used to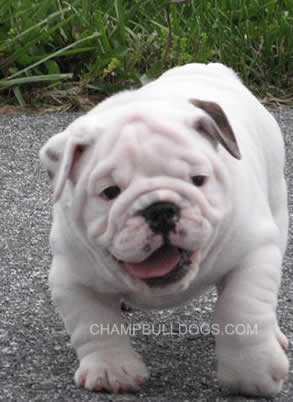 allow your bulldog to have a place to sleep and teaches them to control their bladder. In most cases they won't soil their own bedding. Then, when it is time to get up and go out, you can easily do just that. Your bully learns from the start that you control potty time.
2. After meals, give your Bulldog puppy 10-15 minutes and then take him or her out. Food is a trigger not only to eat but also to go. When it comes to potty training success, allow your bulldog to get outside when the urge is approaching. What's more is that you shouldn't leave food out. Put it down for them at the designated time and allow them to eat for 15 minutes to 30 minutes and remove the bowl. Soon he will learn and that again allows you to control potty time.
3. Pick a potty spot. Select the area of your yard that you want your english bulldog puppy to go in. Take them to that spot every time to go. This will help your puppy to learn that when he needs to go, he needs to come here. What's more is that the smell of urine is yet another trigger to your pet to go.
4. Remember that rewards need to be emotional, and therefore it is more successful to give them a reward of a patting and rub down your bully baby then it is for you to hand them a treat. Also, treats are food which triggers potty time again!
5. Reward success, and limit punishing accidents. Although you will be angry and you will want to punish your Bulldog remember Bulldogs respond much better to love.